Bloggers Should be Compensated for Work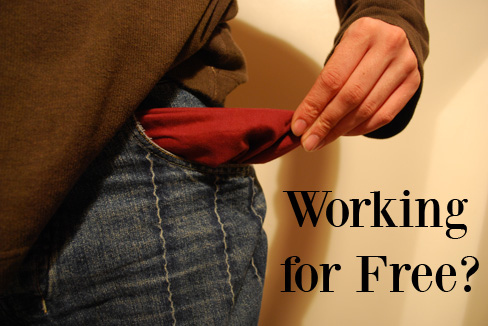 ***Originally published on ModernMami.com***
About five months ago, I shared with you how I was offered to work for food…literally. In exchange for seven blog posts for a brand (in one week), I was offered $200 worth of their food products. Promoting a brand for free – on that scale – was not something I could agree to do.
In those five months, I've seen many more paid campaigns and sponsored content become available – both to me and blogging friends. We've seen more brand ambassador campaigns that value the work required and partner with a blogger over the course of a month or more in a variety of ways, including sponsored posts, advertising, and hosting twitter parties.
Progress. Yet, with all that progress and change towards more respect for bloggers' work, there are some campaigns out there still being pitched to bloggers that take advantage. Just last week, I received an offer to be part of a community that will be relaunching soon and is geared for moms. Without naming names again, the site is a fairly new community backed by a high-profile TV personality and network. The idea being pitched to me was as follows:
We want to build a community and educate moms on money matters.
We're looking for a group of 15 moms who will be highlighted on the site.
Requirement from each of the 15 moms: write 3-4 articles per month (250-300 words each) on micro-site and moderate comments on each post
Benefits for each of the 15 moms:

profile with bio
2 sentence by-line on each article
site will be promoted on TV show of said personality and on sponsor's site
As soon as the person pitching me asked, "So, what do you think? Are you interested?" I answered with "So, it's not a compensated project?" I could not wrap my head around the fact that they wanted me to create content for their site on a weekly basis, with no compensation. What's more, these 15 moms were really being brought on to build a community that thus far had not succeeded with the TV personality alone. They needed the help of these 15 moms to bring a community to the site. The allure of my bio being on this high-profile TV personality's site and the promise of the site being promoted on the TV show was somehow supposed to be enough compensation.
What surprised me even more was that I was told they already had the majority of the 15 moms on board and were in the process of finalizing the team, so they need my answer ASAP. Really? There was already a set of 10+ moms out there that had agreed to this? Why?
Ladies, why are you agreeing to work for free? Writing 3-4 articles per month takes time. It may only take you an hour per article, but that's still time taken away from your already-busy lives. Plus, you are contributing to the success of the overall site, which has sponsors and advertisements – all money that you're never going to see, but instead is going into the pocket of an already high-profile TV personality. Does that seem fair?
Why is it that they could not budget out a specific amount to pay the 15 moms that will be building the community for them? And if the budget did not allow for fair pay for 15 moms, then perhaps the amount of moms brought onto the team could have been less in order to meet the budget constraints. I know of blogs/communities owned by fellow moms and bloggers that pay their contributors. How is it that a site backed by a TV personality and network could not afford to do so?
On the other hand, perhaps the community owners were ill-advised. Maybe it was never suggested to them that they should pay for such work and were going along with what the social media consultant was proposing. It could very well be that this particular consultant was advising them to gather a group of moms to write free content for them in exchange for the exposure. And why wouldn't they think it to be fine? After all, there is a group of 15 moms out there that did agree to do just that!
And, so the cycle continues. If bloggers continue to work for free, then consultants, brands, and companies, will continue to think that it's the way to conduct business.
I'm interested to hear your thoughts. How would you have handled such a pitch had it been offered to you? Why do you think that bloggers continue to accept non-compensated projects and work for free?
6 Comments for this entry
4 Trackbacks / Pingbacks for this entry