Promoting Latina Leadership Through LATINAS THINK BIG Event
Promoting Latina leadership and empowering Latinas to think big are just two of the goals of the ELLA Leadership Institute. Founded by Dr. Angelica Perez-Litwin, the ELLA Leadership Institute accomplishes this through education, peer mentoring, and networking events, among other initiatives. Supporting Latinas is important to us at Ella Media, which is why we celebrate positive portrayals of Latinos in the media and good Hispanic marketing initiatives. Naturally we wanted to support our friends at ELLA Leadership Institute and their LATINAS THINK BIG event and are happy to partner with them as media partners to help spread the word for the upcoming LA event.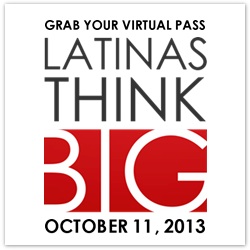 The Los Angeles LATINAS THINK BIG event takes place this Friday, October 11 and is sure to provide attendees exceptional inspiration to lead, affect change, and of course, think big. The event will provide networking opportunities as well as recognize and celebrate the innovative work of Latinas from various industries.
If you're unable to attend LATINAS THINK BIG in-person, you can grab a free virtual pass to view the live stream of the event and follow along from the comfort of your home. The event is being broadcast nationally via Google+ Hangouts on Air. You can also engage with attendees and fellow virtual viewers on Twitter via the #LATINASTHINKBIG hashtag. I strongly encourage you to follow the conversation on Twitter even before the event to connect with like-minded women (and men) sharing a passion for Latina leadership!
How can you, your brand, or company support and empower Latinas to think big and lead current and future Latino generations?