Reaching Latino Consumers: National Honey Board Partners with Bárbara Trujillo Gómez in Marketing Efforts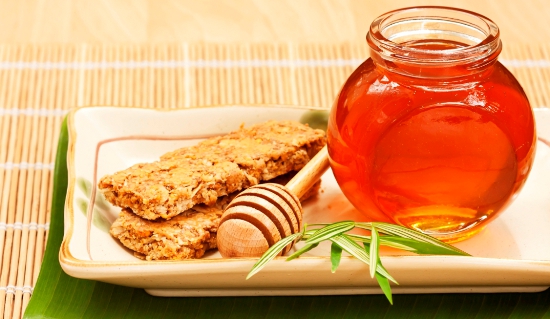 We recently chatted with the National Honey Board and Bárbara Trujillo Gómez, who have partnered to encourage consumers to lead an active and healthy life, and are spreading the message of how honey can help you in your efforts. Through this partnership, they've launched a three-month challenge with recipes, exercise ideas, and tips from Barbara on a Spanish-language site.
This partnership piqued our interest because it seeks to inform Latino consumers, and the National Honey Board is working with a Latina to engage the demographic. ¿Bien hecho, verdad?
Here are a few questions we asked both the National Honey Board (NHB) and Bárbara Trujillo Gómez, along with their comments.
National Honey Board Marketing to Latino Consumers: Interview with NHB
In your research, have you found that Latinos are typically large consumers of honey?
Definitely. Honey is one of those few all-natural staples that spans across cultures, and we have found that Latinos are especially loyal to honey in many respects. They enjoy the benefits of honey in everything from their at-home beauty regimens to their favorite recipes and teas, many of which are passed down from older generations who believed in using what's readily available. Honey is an economical and accessible product with many uses and is consistently found in Latino households. It appeals to Latinos because of its natural quality, wholesome image and long history. Latinos reflect their closeness to home and their cultural past in their dishes, and their preference of honey reflects their ties to home and family.
Why is engaging with Latino consumers important to the National Honey Board?
The National Honey Board (NHB) values our relationship with Latino consumers because of their support for quality products and their do-it-yourself approach to daily activities. Their growing presence in the market is beneficial to natural ingredients like honey, as it encourages making your own meals, snacks and beauty treatments at home instead of buying pre-packaged items that are generally more expensive and have been processed.
You've partnered with Bárbara Trujillo Gómez in the past; how has this partnership been successful in reaching the Latino market?
Working with Bárbara has been a wonderful experience, and her partnership with the NHB has resulted in effective Latino outreach due to her extensive health and fitness knowledge, as well as her personable nature. She's professional, enthusiastic and truly captures everything the NHB promotes – feeling good with a little help from nature! Bárbara shares the NHB's values, as well as believes in being the best you can be by making smart choices and leading an active lifestyle. We find this to be an inspiring and empowering message to Latinos. With Bárbara as a partner, we have also been able to connect more closely with Latinos through a variety of media platforms, including social media outlets like Twitter and Facebook.
How is social media helping you connect with Latinos?
Social media activity has been key in connecting with Latinos. Latinos have a strong presence online, and one that's still growing. They are the leaders of a multitude of web media outlets and blogs, most of which have their own respective Facebook pages and/or Twitter profiles. This reach is important to the NHB since it means that more Latino consumers are getting the latest information on everything honey, all in a platform where they can give us their feedback. The NHB appreciates their support and we want them to continue seeing the value and benefits of honey, but in such a way that's relevant to them and their lifestyles.
Do you envision working with digitally-savvy Latinas in the future to help spread your message through various social media platforms?
Without a question. We're always up-to-date on the latest trends and have already worked to foster strong relationships with digitally-savvy Latinas, and our relationship with Bárbara is an example of these efforts. In our current campaign, the Honey Fitness Challenge/ Reto Fitness y Energía de Miel Pura, we've made an effort to connect with digitally in-tuned Latinas more than ever by creating a whole new interactive microsite they can navigate, reto.mielpura.org, as well as by sharing highlights and video clips from our media tours via Facebook. The NHB is always open to their feedback and the possibilities of future partnerships, especially in such an exciting and constantly changing space like the internet.

National Honey Board Partners with Barbara Trujillo Gomez: Interview with Barbara
Why was partnering with the National Honey Board important to you and your mission?
Collaborating with the National Honey Board has been one of the most fulfilling times in my career. As a fitness expert and spokesperson, you hope to work with a product you believe in, and honey is that for me. I aim at living a healthy life while making it accessible for all to achieve. Honey is that kind of product; we all have it available no matter what our financial situation is. It is an all-natural single ingredient product with many uses. It's extremely versatile, sweet and it just makes you smile and feel good! When I think of honey, I can't help but think of "Pooh Bear" or any cute bear for that matter. I've even gained a huge appreciation for bees! It's an amazing product and I am very blessed to be joining the National Honey Board in sharing its value to the masses.
What role is social media playing in your work with the National Honey Board?
Social media plays a huge role in everything we do nowadays. It's because of social media that I am able to connect with the public instantly and spread the knowledge. Much of my work depends on education and motivation, and social media gives me the opportunity to do both. I love how it makes us feel as if we are truly all in it together, working towards a common goal. As long as it's a positive one, like the benefits of honey, I am all for continuing to use the social media platform.
What advice can you give Latina bloggers that may seek such brand ambassadorship/ spokesperson opportunities?
To Latina bloggers and anyone else who is looking to work/partner with a company, I would advise them to stay true to themselves. I, with all my heart, believe in what I do, which is why I truly believe I have been successful in my work. Never underestimate your value and what you are able to accomplish. If you have a vision, stick to it. Listen to your heart. GO for it, and just press send!
Why should brands partner with digital Latinas in their marketing efforts? What can other brands learn from your partnership with the National Honey Board?
Open and honest communication. Latino purchasing power. Growth of the Latino community. I can go on and on as to why brands should partner with digital Latinas in their marketing efforts. There is a great camaraderie amongst Latinos regardless of the many "faces" of Latinos. At the end of the day, we all stick together. There is a level of trust when we share our thoughts and views, and when it's a Latino speaking to another Latino we tend to listen and take the advice, which is beneficial to a company when representing their product/brand.

Mutual respect is instrumental in the success of a campaign. I am extremely fortunate to say that thus far I have experienced that while working with the National Honey Board. Again, I believe in the product, I believe in humanity, and I strongly believe that what you give out comes back.
Many thanks to the National Honey Board and Bárbara Trujillo Gómez for taking the time to chat with us and answer our questions!
What has been your experience in partnering with brands to reach Latinos? If you're a brand/organization, what have you learned form partnering with Latina or Hispanic bloggers?
1 Trackback or Pingback for this entry