Keeping your Online Personal Brand Consistent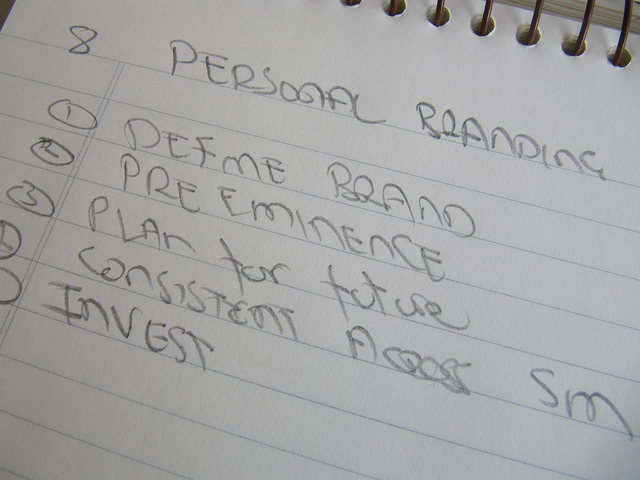 There is a lot of talk about personal branding in the social media space. What is your personal brand? Why work on developing your personal brand? How do you use social media to develop your personal brand? Those are just some of the questions and conversations happening on various blogs, articles, and webinars.
If you've been using social media for a while, and particularly if you've been blogging, you've no doubt heard that your personal brand is something worth developing and ensuring is strong, especially when it comes to extending your personal brand online. One of the main tips, if not the best one, regarding personal branding, is to keep your brand consistent. It's also important to note that your logo is not your brand, though it's a part of it. When speaking of your personal brand, we're referring to your overall message. What is it that people remember about you? How do you ensure that your message and online persona remain consistent in order to represent your brand accurately?
A lot of advice and information is out there for you to learn the ins and outs of personal branding. I'll provide you with some resources at the end of this post. But, right now, I want to focus on three areas that I think will get you off to a very good start in strengthening your online personal brand and keeping it consistent.
Securing your Username Across Multiple Social Media Sites
Let's say you just thought of the best name for your blog. You're going to call it "The Best Latina Blog Ever" and register the Blogger URL bestlatinablog.blogspot.com (or better yet, you buy your own domain). (Note: I'm completely making this name and URL up for the sake of using it as an example.) Now, you've been told that you should create a Twitter account, Facebook fan page, and if you're going to do video, you need to get on YouTube too! So, you sign up for each and create the following usernames: "latinablog" for Twitter, "bestlatina" for Facebook, and "mejorlatina" on YouTube. While all have Latina in the name and somewhat represent your blog's name, they're not consistent. It will confuse people and they may not know it's all one and the same person. A better solution would be to register "bestlatinablog" for each of the sites and use the same username across the board.
Want an easy way to know if your username is available on multiple social media sites? There are services such as namechk where you can type in a desired username and see where it's already been taken and where it's available. The goal is to find a username that is available on the majority of sites – especially, the top social media sites most commonly used (i.e., Twitter, Facebook).
Using a service such as namechk, you can either brainstorm a username that is not previously used or ensure that your existing username is registered everywhere in order to secure your brand. After all, you don't want someone to step on your brand by registering your username on a site before you could get to it. It will take you some time to go through each site and register your username, but it's something you won't regret in the future, and you'll be one step closer to owning your brand.
Consistent Online Voice
When you think of your online voice, you want to think about how you speak on an everyday basis. Your mannerisms, tone, and language are all things that can be portrayed online, believe it or not. It's quite amazing, actually, how after interacting with someone online for a while, you begin to "get to know" their voice. You begin to pick up on the minor differences in their writing and learn their patterns. With that in mind, it's important to be consistent in how you write – whether on your blog, Twitter, Facebook, or any of the other social networks.
As an extreme example, you wouldn't want to consistently write on your blog with a happy-go-lucky and family-friendly tone, but then go on Twitter to show your anger and use curse words in each tweet. The two don't match. Now, I want to be clear that I'm not saying you should fake a personality and not be true to yourself. No; that's not genuine and people will see through that too. Instead, what I'm saying is that if you're going to be one way on one site, be the same on the other. Don't "reserve" a certain side of your personality for one social media platform, while exposing another side of you on another. Your readers and community will tend to follow you from one site to another, and if you're not consistent, it will show to them. Isn't it better to be true to you and show your true self on all sites so that people can better connect with you?
Consistent Logo and Image
As I said before, your logo does not equal your brand. Your brand is made up of many things, with the logo being just one part of it. However, your logo is something that you want to ensure properly represents your brand. Once you have your logo, you'll want to be sure that you use it appropriately on various sites and that you don't manipulate it in ways that will break your brand. You want people to recognize it no matter where it is and immediately know that it is your logo, your site, and you.
Another part of keeping your online image consistent is your personal photo and/or avatar. All too often, we tend to use one photo on our blog, another on Twitter, and yet another on Facebook – sometimes even using the latest picture of our kids for our avatar. Will people know it's you each time? Will they easily recognize you and know that they're speaking with "Best Latina Blog Ever" if each photo doesn't show them that?
Of course, you can show personality in your photo and can even use variations of your photo for each site. For example, one may be of you smiling at the camera and the other of you being playful, but they both still should be of you and have the same vibe. What you want to avoid is using a photo from 3 years ago on one site, this year's Halloween photo on another, and a picture of your kids on the next. Can you see why that may be confusing to your community?
A great tool for ensuring your logo and/or personal avatar is displayed on many sites is Gravatar. By signing up, every time you leave a comment on someone's blog, your image will be displayed next to your comment. This works great for building visibility for your brand and making sure that your name is easily recognized.
If you start out working on just these three areas, you'll make great progress towards building your online brand and making it strong. It's something that you'll definitely be grateful you took the time to do.
As promised, you can learn more about personal branding, other points to consider, and how to go beyond these tips by reading some of the following:
What are you doing to develop your personal brand?
8 Comments for this entry
9 Trackbacks / Pingbacks for this entry