SEO Checklist for Publishing Blog Posts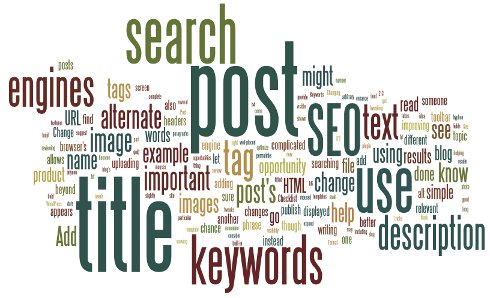 There are many tips and tricks out there for improving your blog's search engine visibility and getting better SEO results. Some are more complicated than others, but it doesn't have to be complicated. There are some very simple steps you can take to improve your SEO. Here's a checklist you can use before clicking publish on your posts.
SEO Checklist for Blog Posts
1. Change Title of Post
After writing your blog post, you may want to consider tweaking the title that's used by search engines. This particular title is not the one you come up with when writing out your post, but the one that appears in a browser's toolbar. See below for an example.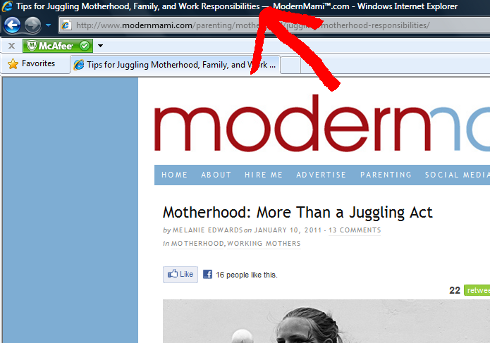 As you can see, the title shown in the browser's toolbar is slightly different than the main title of the post. This title is gold for search engines and is an opportunity you shouldn't miss out on. By adding keywords to your title, you can help your post be more visible to search engines. Just remember, the first few words are deemed the most important by keywords, so be sure to use your most important keywords at the beginning of the title.
How to Change Your Blog Post's Title
Many templates have built-in features that allow you to designate a post's title, description, and keywords, all of which search engines use when displaying search results. If your template doesn't, you can use plugins like All in One SEO to change the title.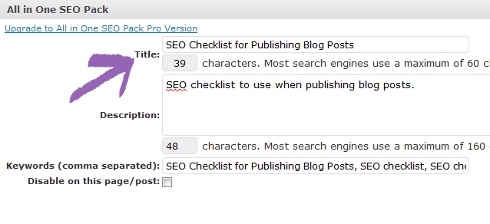 2. Add Tags to Post
Post tags, different than your post's category, offer another chance to let search engines know what keywords are important. Be sure, though, that you are consistent with the topic and add keywords that are relevant.
3. Add Description
If your theme allows you to add a description, or if you use a plugin that does the same, adding a brief description to your post allows it to be displayed when your post comes up in search engine results. If someone searching can get more info on your post from the description, they might click on your post rather than an arbitrary link without a description.
4. Custom URL
Hopefully you're already using permalinks that go beyond the post ID number or a date and are a bit more descriptive. Normally, the permalink takes from your post's title to create the URL. But, did you know you can customize it?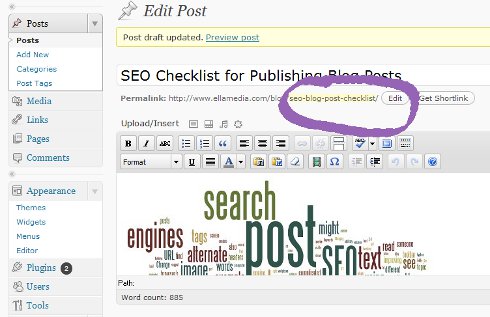 Changing your post's slug (the last part of the URL) is a huge opportunity to use keywords relevant to your post that can help with SEO. I suggest using a phrase of 2-3 words and no more than 4 connected by a hyphen. Think of how people might search for the topic of your post and use a similar phrase. Even better, you can use keyword tools such as Google's Keyword Tool to help you.
5. Use Headers to Break-up Text
Breaking up your paragraphs with well-placed headings is not only a good idea to help your readers scan your post, but it also gives you another chance to let search engines know about those keywords. You can see how I've done this throughout this post. The important thing is to format your headers using the HTML tags h1 through h6, though I probably wouldn't go beyond h4.
6. Format Images
Images provide a few opportunities to use keywords and enhance your post. With the right tweaks, you can find new visitors who land on your post when searching for images. Here are three simple changes you can do to optimize your images.
Change Image File Name
Before uploading your image, change the file name and use your keywords instead. As an example, instead of uploading a photo of the product you're reviewing titled IMG001.jpg, change the file name to include the product name (i.e., clorox-wipes-review.jpg).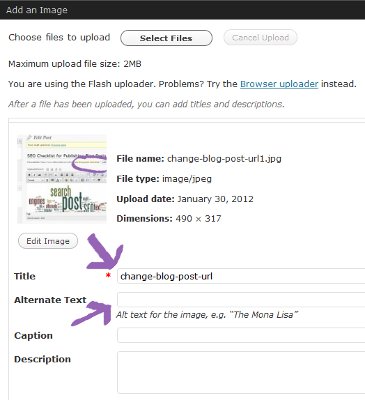 Add Alt Tag
When you upload your image, if you're using WordPress, you'll see several fields you can fill out including title and alternate text. The alternate text (designated in the HTML as the alt tag) is important to complete so that anyone viewing your site with images turned off or a screen reader can know what the image is. You should describe the image with a couple of words. Following our example of the product review, you could have the alternate text read "Clorox wipes bottle."
Add Title Tag
The title field, or title tag in the HTML, is the text that appears when someone mouses over the image. If no title tag is included, then your alternate text will be displayed when moused over. The title tag is also read by search engines, so again, this is an opportunity to use your keywords. You might use the same as the alternate text or you can expand upon your description. For our example, you might have the title tag read "Review of Clorox Wipes."
These simple changes to your blog posts can go a long way in improving your SEO and helping search engines see your posts. The updates can easily be done for each post before you publish it; you'll find it'll become habit after a while and you won't even have to think about what needs to be done.
Do you think this checklist will help you format your blog posts for better SEO? Do you already make some of these changes?
Download the printable SEO checklist to help you remember these tips!

24 Comments for this entry
6 Trackbacks / Pingbacks for this entry