Latinas Sharing Culture Online and Lessons from #SheStreams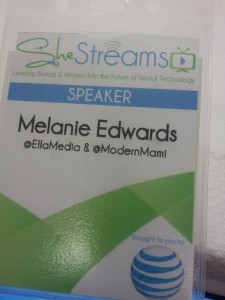 Last weekend, we attended the SheStreams conference in Ft. Lauderdale, FL and were able to learn, share, and connect with many of the attendees. There were some great sessions with valuable information, motivation, and inspiration. Plus, it was great that we were conference partners and presented as well!
We want to share some of what we learned at SheStreams, and a bit of our presentation too. Let's start with that, shall we?
Latinas Sharing Culture Online
Our session exposed the SheStreams audience to digital Latinas who are creating content and sharing their culture through blogging and video. We provided information on the Hispanic market and Latino purchasing power, how this is relevant for brands who want to reach the Latino consumer, and how brands can partner with Latinas to spread their message and make it culturally relevant. During our session, we showed various examples of Hispanic bloggers and content creators that use video to enhance their stories. Latinas who were mentioned included:
These were just examples of how some Latina bloggers are storytelling through video and sharing culture through their sites. We know there are more out there!
You can see the full slideshow below of our SheStreams presentation and click on the linked terms to see the videos we shared during our session. Many other Latina bloggers also presented at SheStreams; you can read more about them in this post by Helena Osorio.
Lessons Learned at SheStreams
We sat in on a variety of sessions, from how to work with journalists to gain press for your business, to sessions focusing on the power of moms who blog.
Tips for Working with Journalists and Gaining Press Mentions
In the Social Journalism session presented by Cindy Krischer Goodman of The Miami Herald, we learned some ways to get the attention of journalists and possibly get mentioned in their stories. A few of her tips:
Journalists love stories on surveys, trends, webinars, and follow-ups to stories they already wrote. She suggested you even invite local media to webinars you host.
Consider guest blogging on newspaper sites.
Comment on social media sites of newspapers.
Use attention-grabbing subject lines when contacting journalists with story ideas. For example, "Good idea!"  "Story Follow-up, " or "New Trend!"
Vlogging 101 Tips from Molly Gold and the AT&T team
Keep the length of your videos to 1-2 minutes.
State the obvious, and answer "why are we here?" Let people know the purpose of the video.
Be careful with brands, logos, and product placement. Avoid enabling YouTube monetization on branded or sponsored videos.
Create your signature style for your videos, but do not copy others' styles.
A simpler background is usually better.
Be careful with ambient noise, and pay attention to lighting.
Don't be afraid to move away from home and go mobile.
YouTube likes 1-word tags for videos.
Tips for Creating Quality Digital Content
Charlene Pacenti from MomsMiami.com suggested you go through this checklist before publishing content. Is the content…
Accurate?
Timely?
Useful to your audience?
Original? (or at least provides a unique perspective or special voice)
Entertaining?
If yes to any, then go ahead and hit publish.
Insight from Maria Bailey
Maria Bailey, founder of SheStreams and many other companies, namely MomSelect and BSM Media, gave a spectacular keynote where she shared her lessons learned after so many years in business. She focused on being a woman in business and the key take-aways she took from having worked with various businessmen. Some of what stood out for us:
Do you have a business plan for your blog business?
Do you have a mission statement? Both a personal and a business one?
Do you have an exit strategy for your business?
Hand-written notes with business cards included set you apart.
If you base your business on how many hours you can put into it, then you'll never grow and you'll always make the same amount of money. You need something that can make you money while you sleep!
Do a time audit and compare how much time goes into your business. Are you really making money or just pushing/moving it around?
When people ask to be partners or collaborate, give them an assignment to see how serious they are about it.
We hope you are able to get a glimpse of the SheStreams conference and the information provided through this recap of sessions we attended.
Did you attend SheStreams? What sessions did you see? Share your notes with us in the comments below!
8 Comments for this entry