Latinos Speak Out on Sofia the First, Disney Junior's Newest Princess: Is She Really Latina?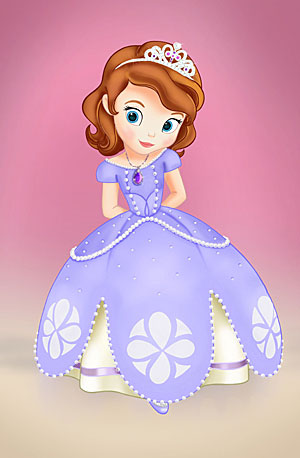 Yesterday as I began my morning social media routine, I began to see articles stating that Disney had unveiled their first Latina princess – Sofia. The new princess is from the upcoming Disney Junior movie and show, Sofia the First, and I was shocked that this was the first I had ever heard of her being Hispanic or Latina. The shock came from the fact that clips from the show have been on TV, previews of the show have been seen by the media even before airing on TV, press releases have been sent to bloggers and media outlets, and no one had ever mentioned Sofia was Hispanic. Why had there been no previous coverage of Sofia's ethnicity?
As you may know, here at Ella Media, we celebrate when brands and companies get it right in engaging with Latino and multicultural communities. We wrote about ¡Q'Viva! The Chosen, a reality show on Fox because it highlighted Latinos in a positive manner. If Sofia had been highlighted as being Latina by Disney, plenty in the Latino community would have celebrated the milestone. But, it's odd that all of a sudden we're being told that Sofia is Latina and there seems to be no trace of her culture in the show.
I want to be clear that personally, my issue is not so much her look, though it is an issue when consistently the look portrayed in the media of Latinos is that of a fair-skinned Latino. My issue is more that my kids will not know she is Latina. In fact, it seems no one did until someone said she was. Will there be cultural or language references on the show for us to identify with? No clips advertising the show have shown any. How are kids to know she is Latina and identify if she's neither confirmed to be Latina by Disney nor shown to be Latina on the show?
I asked a Disney Junior representative just that. My question and their response below.
"How are we to know she is Latina? How will the kids know? What characteristics, features, etc., about the character and show will portray her as Latina?"
Disney spokesperson:
"The range of characters in 'Sofia the First' – and the actors who play them – are a reflection of Disney's commitment to diverse, multi-cultural and inclusive storytelling, and the wonderful early reaction to 'Sofia' affirms that commitment. In the story, Sofia's mother, Queen Miranda, was born in a fictitious land, Galdiz, a place with Latin influences. Miranda met Sofia's father, Birk Balthazar, who hailed from the kingdom of Freezenberg, and together they moved to Enchancia, where Sofia was born."
A 'place with Latin influences' doesn't tell me much. Disney's response doesn't truly answer my question of how kids will be able to know and identify with Sofia as being Latina. It doesn't say how Latino culture will be portrayed on the show, or even referenced. Most importantly, it doesn't confirm that Sofia is indeed Latina.
There's been a lot of coverage in the past two days about whether or not Sofia is Latina, from those criticizing her look to those just asking for official confirmation from Disney. Take a moment to read through the various articles and opinion pieces. I will continue to add to the list as I learn of new articles:
What do you think? Do you believe Sofia the First is Latina or Hispanic?
3 Comments for this entry